COVID-19 Update
Current Library Hours:
Monday, Wednesday, Friday: 9am – 5pm
Tuesday, Thursday: 11am – 7pm
Saturday: 11am – 3pm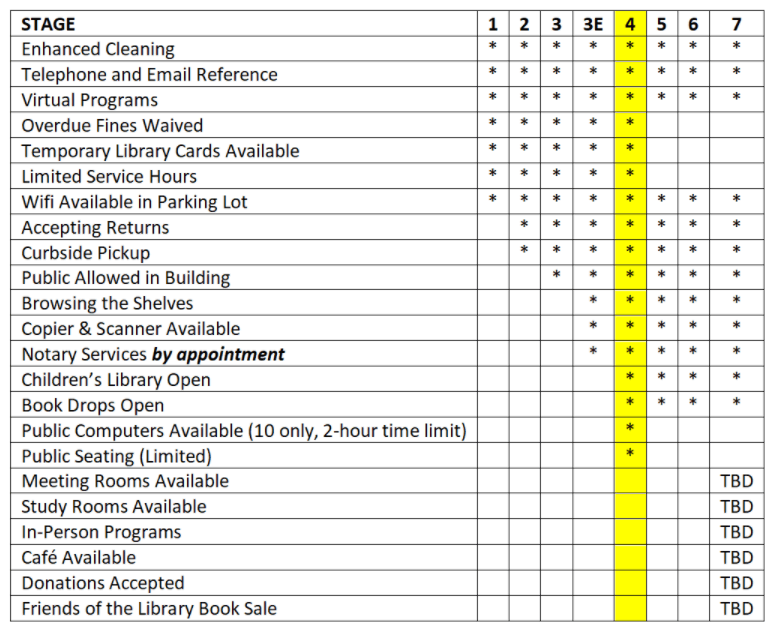 October 30, 2020
Beginning November 2, we will continue to expand on the services that are available in the building. Access to public computers will increase to two hours per person, per day. Newspapers will be made available, as well as a limited number of study carrels and arm chairs for in-library use on a first-come, first-served basis. Masks must be properly worn at all times when seated at a computer, study carrel, or in an arm chair.
After careful consideration, we have decided to maintain our current hours (listed above) through the remainder of the year. We anticipate increasing our hours early in January 2021. We are making the best effort to keep our community and our staff safe, while continuing to provide library services.
We have updated our Curbside pickup procedures. Once you have scheduled an appointment time, you may pull up to the curb, call staff to let them know you have arrived, and they will leave your materials outside of our side entrance (next to the external book drop). You can see times and details here.
As a reminder, books and library materials can now be returned inside the building or 24 hours a day in the external book drop located adjacent to the building. Although we have been able to reopen our book drops, please remember we are still following safety protocols and all materials will be quarantined before being checked in. As a result, it will take several days for your account to be updated.
It is our hope to continue to increase our services as the year goes on and into 2021. Please understand we are doing the best we possibly can in the current situation. Thank you for your continued patience and understanding.
Alexandra Gutelius, Library Director
Clifton Park-Halfmoon Library's Reopening Service Plan
Clifton Park-Halfmoon Library's Reopening Safety Plan
Useful Links
New York State Coronavirus Hotline 1-888-364-3065
New York State Department of Health – Novel Coronavirus (COVID 19)
Centers for Disease Control and Prevention: COVID 19