COVID-19 Update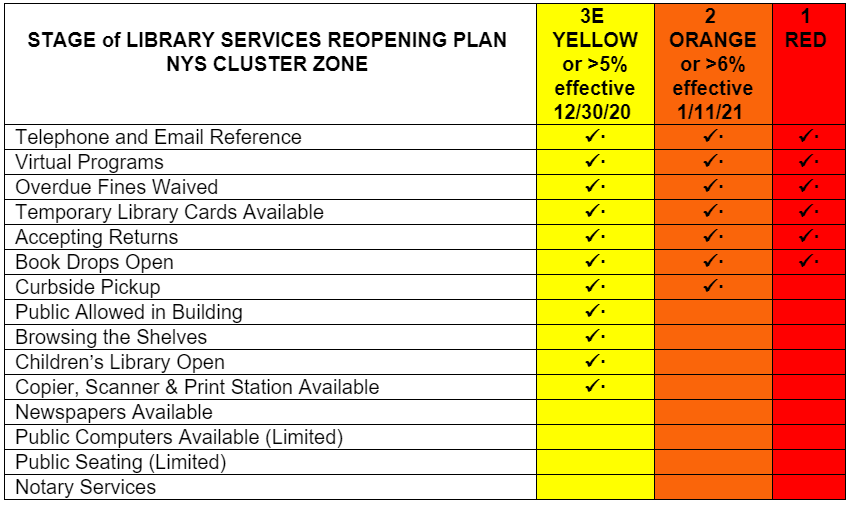 January 15, 2021
On Monday, January 11 the Library began offering Curbside and Remote Services. While we understand many people were disappointed that they were no longer able to browse inside of the Library, we felt it was the safest option for our staff and the public, given the rising number of COVID cases in our area.
We acknowledge that there were some kinks to be worked out that have resulted in a delay scheduling curbside pickup appointments. We are doing our best to fulfill your requests as quickly as possible. Every day, Library employees are pulling hundreds of items off the shelf to fill hold requests. We are able to accomplish this because, with scheduling, the checkouts can be done over the course of each day. Our aim is to minimize the amount of time patrons are at the Library waiting for items. Because of this process we are unable to fulfill same day requests.
Our external book drop located on the left side of the Library front doors is open 24/7 for your convenience. Due to quarantine protocol, we cannot accept returns at the Curbside Pickup area. Our library staff will still be on hand during the hours listed below to help you with hold requests, scheduling a pickup time, and to answer your questions. 
We look forward to welcoming you inside the building when it is safe to do so. Until then, we hope you will take advantage of our many digital resources and virtual offerings that are still available.
| | | |
| --- | --- | --- |
| | Telephone and email reference | Curbside Service |
| Monday, Wednesday, Friday | 9 am–5 pm | 10 am–4 pm |
| Tuesday, Thursday | 11 am–7 pm | 12 pm–6 pm |
| Saturday | 11 am–3 pm | 12 pm–2 pm |
Alexandra Gutelius, Library Director
Clifton Park-Halfmoon Library's Reopening Service Plan
Clifton Park-Halfmoon Library's Reopening Safety Plan
Clifton Park-Halfmoon Library Cluster Guidance Plan
New York State COVID Vaccine Information
Useful Links
New York State Coronavirus Hotline 1-888-364-3065
New York State Department of Health – Novel Coronavirus (COVID 19)
Centers for Disease Control and Prevention: COVID 19