COVID-19 Update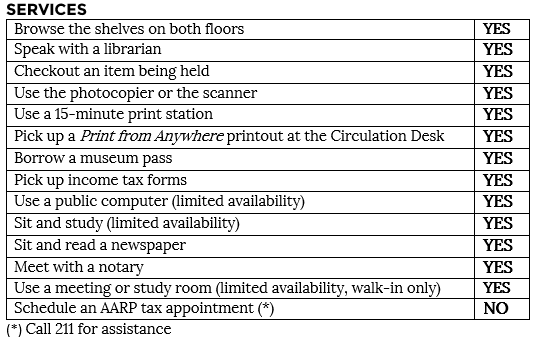 Library Building
Hours
Curbside Service
Hours
Monday-Thursday
9am – 7pm
MWF 11am – 1pm
Friday
9am – 6pm
TTH 4pm – 6pm
Saturday
10am – 4pm
1pm – 2pm
May 19, 2021
We are pleased to announce that effective Wednesday, May 19th, fully vaccinated individuals will no longer be required to wear a mask when in the Library. This is based on the most recent CDC and New York State guidance. According to the CDC, people are considered fully vaccinated two weeks after their second dose in a two-dose series (such as the Pfizer or Moderna vaccines) or two weeks after a single-dose vaccine (such as Johnson & Johnson's Janssen vaccine). However, consistent with the CDC guidance for schools, masks will still be required for everyone while in the Children's Library. 
We are already planning in person programs to be held outdoors in the coming months. Where social distancing can be maintained, masks will be optional at these programs. We are delighted to be taking these steps towards business as usual at the Library and we look forward to seeing your smiles.
Alexandra Gutelius, Library Director
The Pandemic Operations Plan has been developed in accordance with amended New York State Labor Law §27-c, and incorporates the Library Reopening Services Plan, Library Safety Plan and Cluster Guidance Plan. The Pandemic Operations Plan was approved by the Board of Trustees on March 15, 2021 and will be updated regularly.
New York State COVID Vaccine Information
Useful Links
New York State Coronavirus Hotline 1-888-364-3065
New York State Department of Health – Novel Coronavirus (COVID 19)
Centers for Disease Control and Prevention: COVID 19