Your Library Stories
How has the Library impacted your life in a positive way? Share your story with the community.
When my wife got a promotion at her job and we moved up to Clifton Park, I was unaware that my decision to go to the local library (5 minutes by car) to 'have something to do' since I'm retired and love to read, would lead to a wonderful discovery! I grew up in Brooklyn, and one of the things I really got annoyed with was politicians constantly cutting the libraries budget. Up here, it seems the library, a beautiful little building full of friendly staff is treated far better.
From the moment I walked in I was enthralled. In the first few months I was engaged by trivia night, meet the local author, and a few weeks ago a great taco truck and Big Fez & the Surfmatics. These are only a few of the excellent services in this gateway to far more than just reading. The library is the best part of living in Clifton Park. The deal was sealed when, on exiting that first day, I saw the pyramid out front and noticed IN A HOLE IN THE GROUND LIVED A HOBBIT, the first line from one of my very favorite books. Keep going! In five decades of going to the library, (I started in 1966) Clifton Park library is the best one I've ever been to.
"We are originally from India and didn't really have a solid support system here but, when we went to the Library, everyone was so welcoming and patient, we felt right at home"
In the past 10 years the library has given my family plenty of opportunities, activities and hours of fun. The more I started going to the library I learnt that they have plenty of activities for all age groups. The Library was the first place we took our children and they love the Library and all the other helpful librarians especially, Miss Lindi as my kids call her, with all our hearts.
The Library also gave me and my family the opportunity to display and share our culture with the community by allowing us to bring Diwali and share it's traditions and importance with everyone. The Library was generous and helpful. I'm so thankful for Melinda's kindness she has shown over the past years to my family and welcomed our culture with the biggest smile.
The Library once again turned out to be pivotal to the community when COVID-19 hit because I was homeschooling my children. Coming up with new ideas to teach and keep the kids busy is difficult but with all the resources the library had to offer, craft to-go kits and numerous Art, STEM, coding classes-what initially seemed like a difficult task turned out to be a breeze. The Library has always been our silver lining and we couldn't be happier to have a little heaven so close by!
– The Jhaveri Family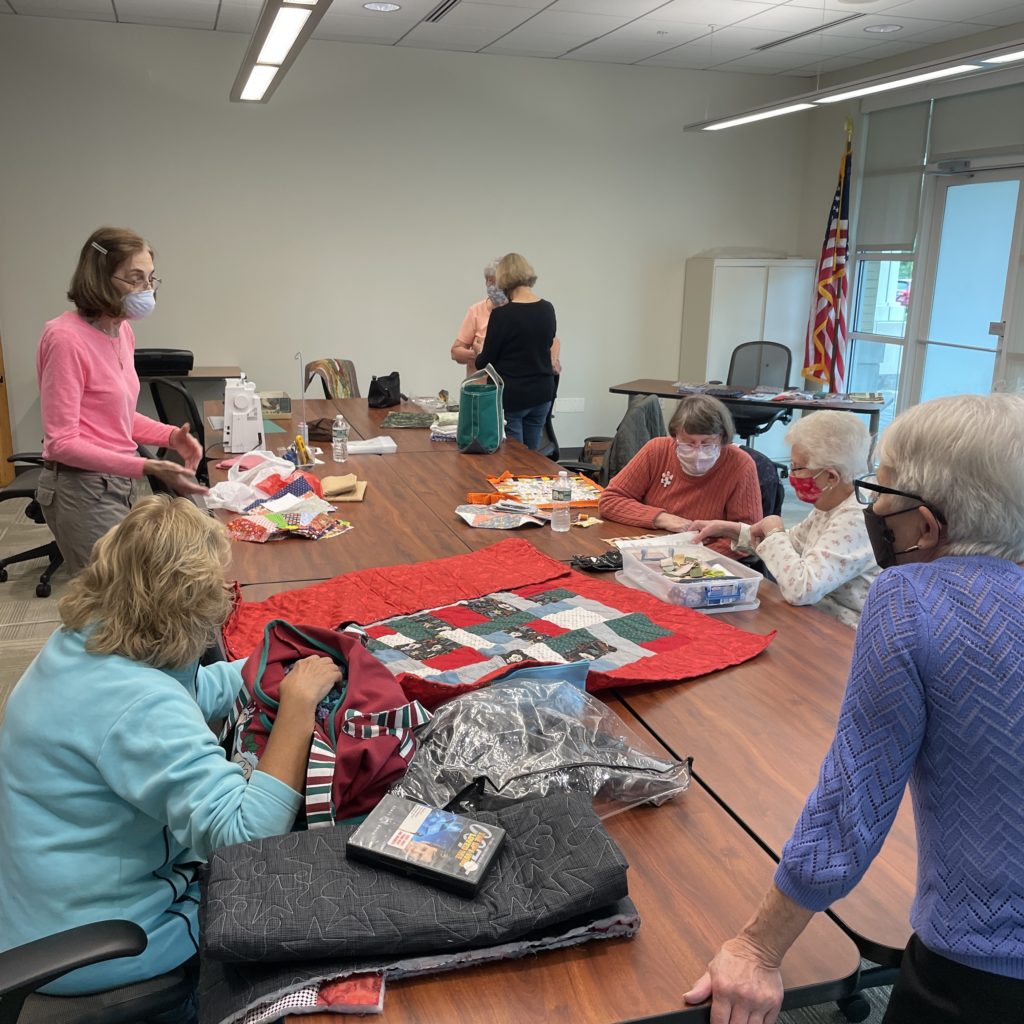 "We have a lot fun getting together, sharing ideas and solving each other's quilting issues. We are thankful the Library provides a space for us to meet monthly. Every quilt has a story" (just like a library patron!)
-Connecting Threads Group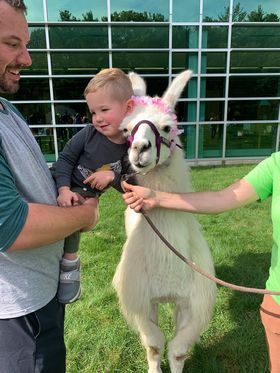 Thank you for the llamas today!
-Colleen V.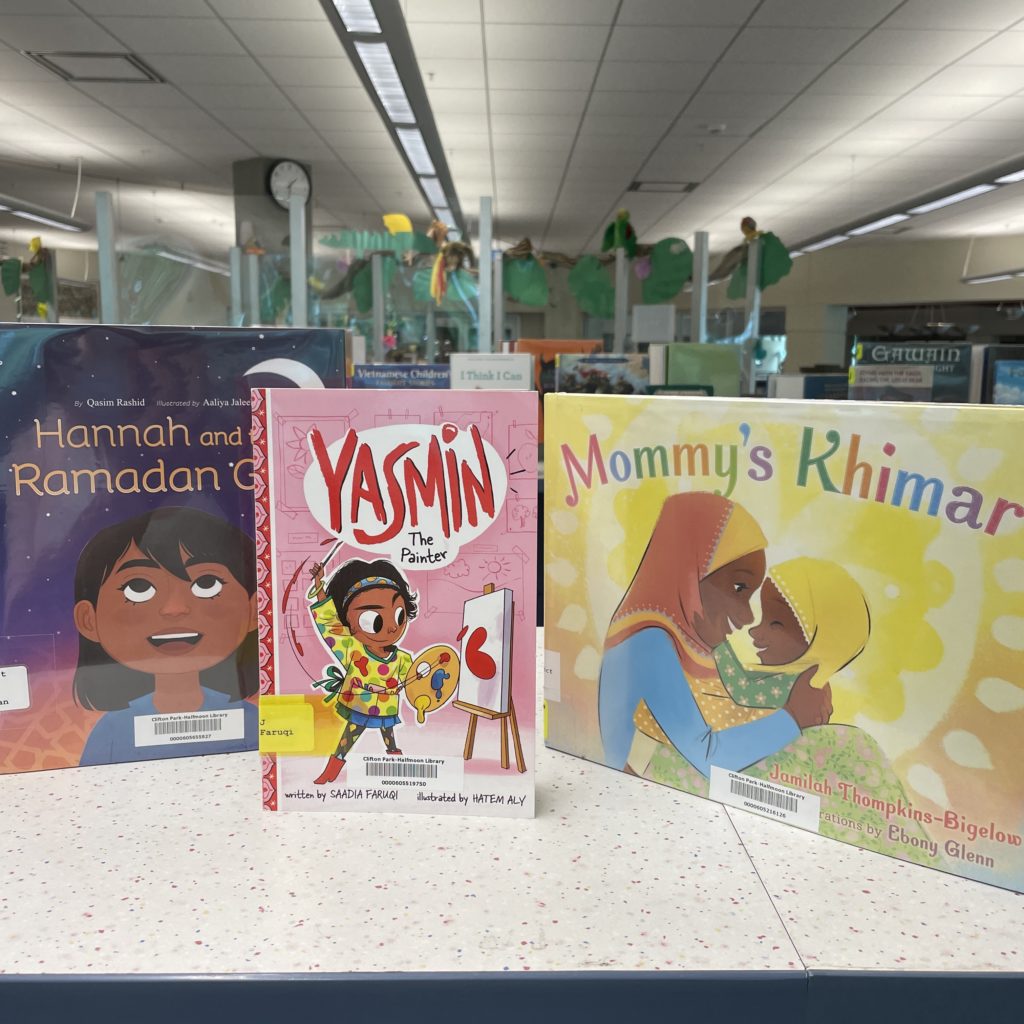 I just wanted to thank you for your book display. I'm trying not to tear up but I'm a Muslim and this is the first library I've been in that has displayed books related to this! It really means a lot". -Anonymous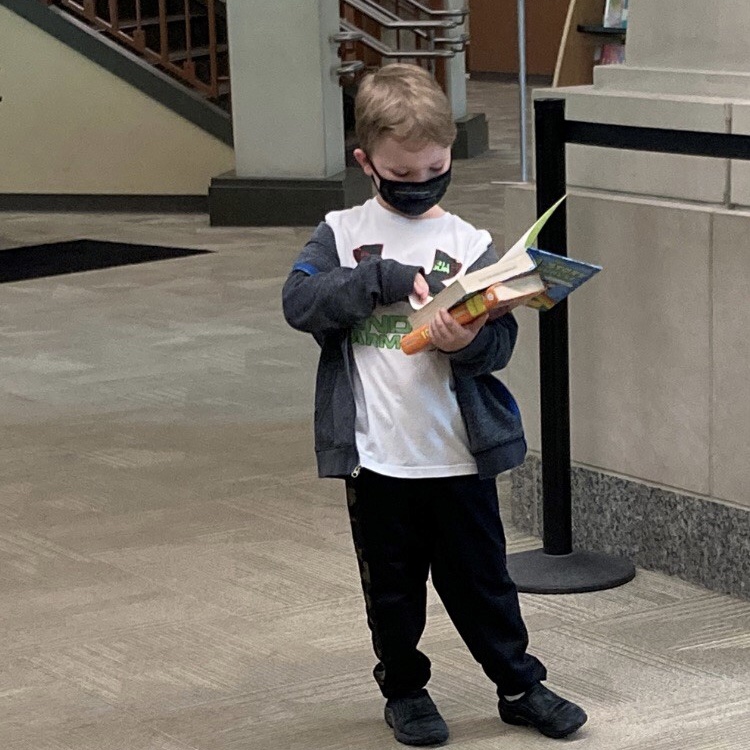 Max reading while patiently waiting in line. He couldn't wait to start his new book!
– Max's Mom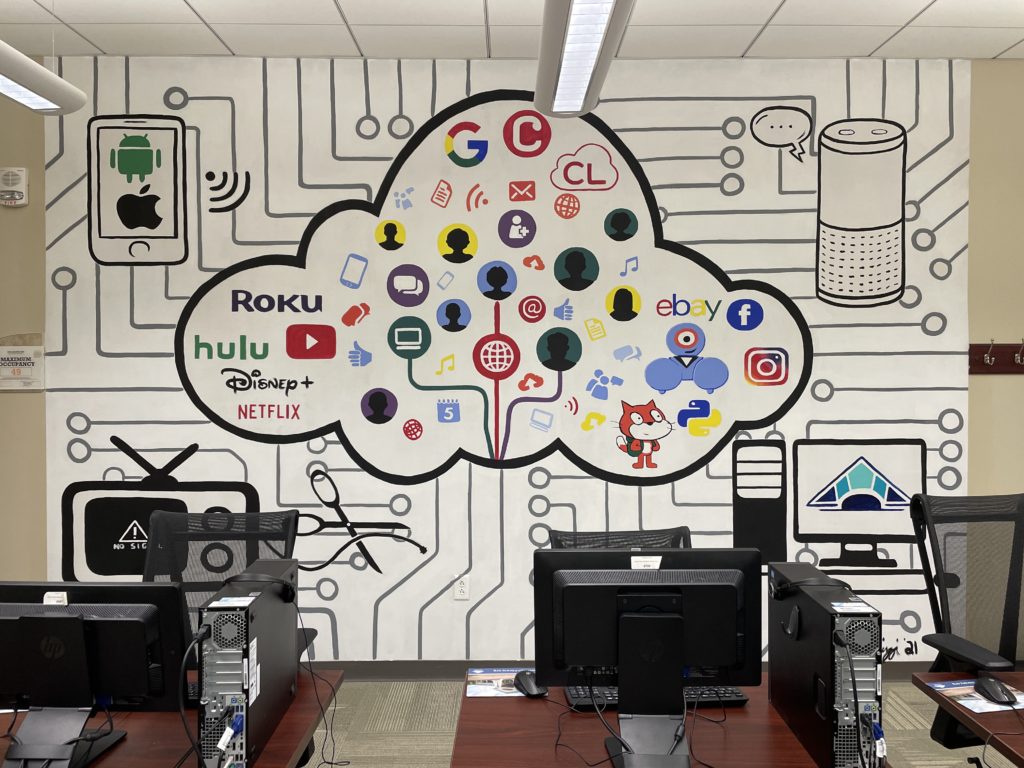 Just wanted to let you know how much your assistance helped me. I just accepted a job that I wouldn't have been able to apply for, if not for the resume tips you sent me. I was able to put together a quick resume and applied for 2 positions on Indeed.com. I was delighted to receive a call & interview. I will begin remote training next week. Also, my son Sean updated his resume with your suggestions and has already had one interview. Hopefully he will find a position soon.
-Grace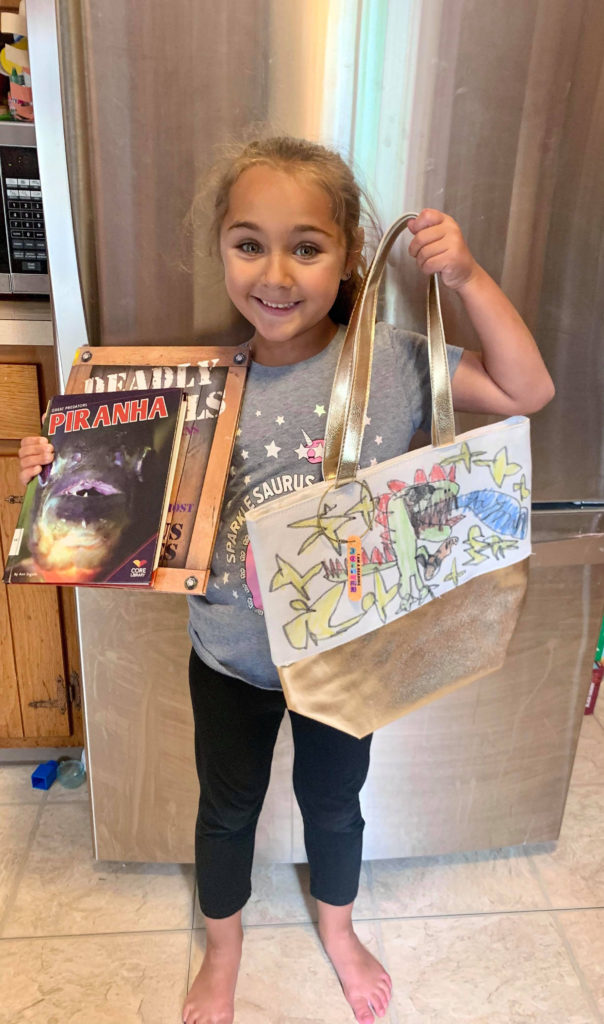 After our trip to the library, we stopped at the craft store and bought some markers and a canvas bag so she could decorate her "Library Book Bag" – the bag she will take to and from the library to transport her books and to hold them safely at home!!
-Giana's Mom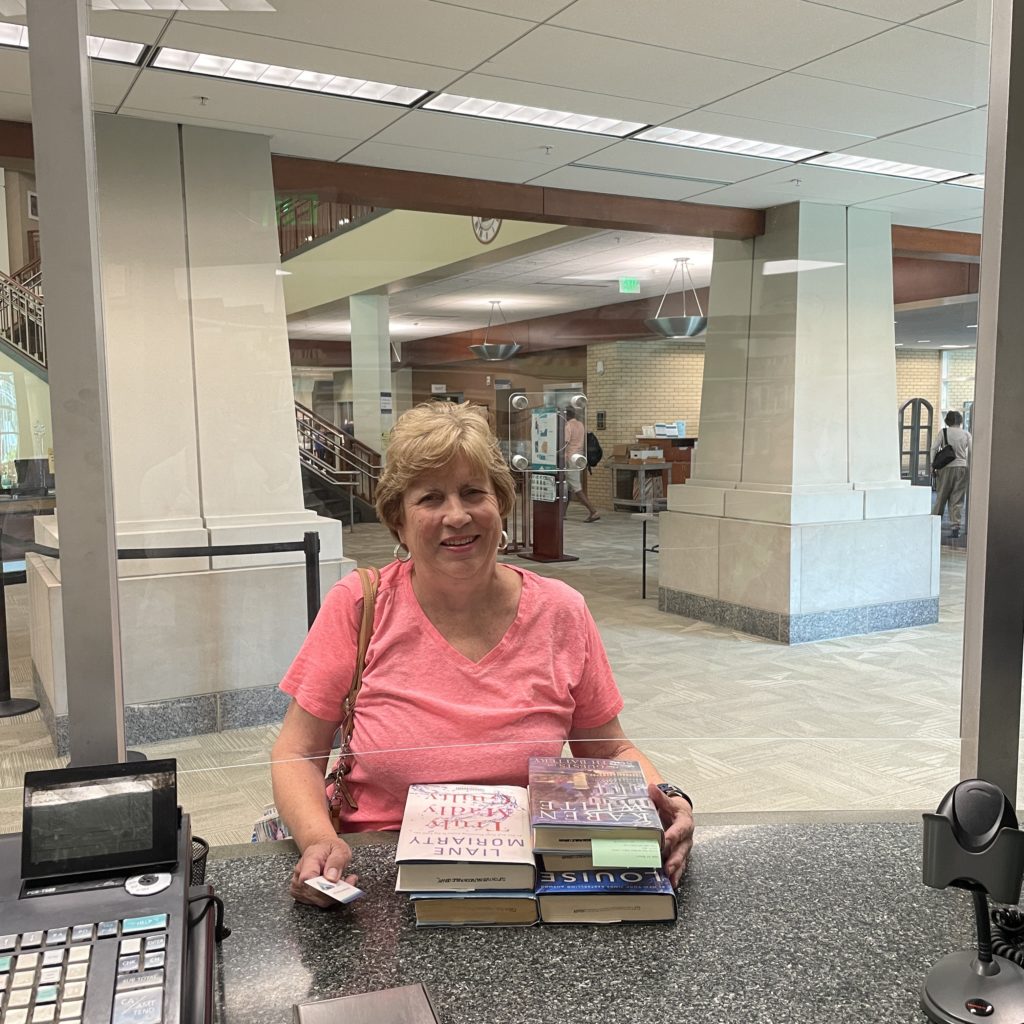 The Library was very important to me during the pandemic. I had decided to read 100 classic American books in a period of 8 months as a project to keep me busy while we were unable to participate in many other kinds of activities. I borrowed many of them from the books on CD collection, others I downloaded from the Cloud library to my iPad and some I read in hardcover or paperback editions. I am so grateful for the Clifton Park-Halfmoon Public Library!
-Kathy