Local History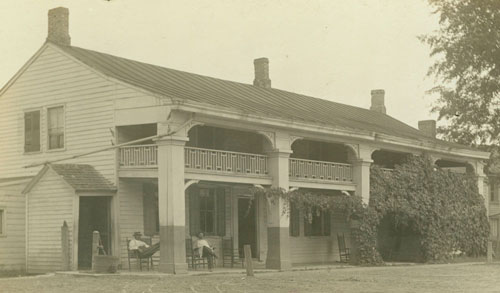 The Ed & Francine Rodger Local History Room houses the Town of Clifton Park's History Collection. Access Local History Room hours and rules of use.
Local History Sites
Learn more about Clifton Park historical sites.
Learn more about Halfmoon historical sites.
Local History Presentations
In-House Collections
Clifton Park Town Collection
Consists of such manuscript materials as photographs, letters, diaries, scrapbooks, and Justice of the Peace records pertaining to the history of Clifton Park that have been collected by Town Historians John Scherer and Howard Becker.
Access finding aid
Pre-Shenendehowa Schools Collection
Records and photographs from 22 small schools in Clifton Park, Halfmoon, Malta, and Round Lake that consolidated in 1950 to form the Shenendehowa Central School System. Also in the collection are records from the preceding Third Supervisory District of Saratoga County, and papers of Rodney Winans, Superintendent from 1929 to 1961. The records in this collection are not complete. Most documents date in the 1910 to 1961 range.
Access finding aid
History Files about Clifton Park and Halfmoon
Contains newspaper clippings and other materials pertaining to the history of Clifton Park, Halfmoon, and adjacent towns.
Access finding aid
Pre-Shenendehowa School Census
Database contains directory information about individual students, from 1920 to 1950. Access is only available in the Local History Room.
Books
Find histories of Clifton Park, Halfmoon, Saratoga, surrounding towns and counties; published genealogies; Howard Becker's compilations of cemetery records; early town roads; early schools; and more.
Access the index to Bits of Clifton Park History and More Bits of Clifton Park History by John Scherer.
Art
The Local History Room houses about 50 framed works from various periods of Clifton Park history, including some historic photos, portraits, and paintings. Browse the list of items here.
Maps
Copies of the 1856 Geil Map of Saratoga County, the 1866 Beers Atlas of Saratoga County and more recent maps of Clifton Park and Halfmoon.
Microfilm
Find New York State Census–Saratoga County 1800, 1855, 1865, 1875, 1892, 1905, 1915, and 1925, and Records of American Baptist Churches in New York: Local Churches.
Digital Collections
New York Heritage
Access historical photographs of our area.
Online Exhibits
Explore "A Brief History of Clifton Park and Halfmoon," "The Erie Canal in Saratoga County," and "The Journey to Moe Road."
Access exhibits
Genealogy Databases
Explore Ancestry Library Edition, Heritage Quest, and African American Heritage.
Access databases
Resource Videos